Welly Boot prints have been a firm favourite of My Seaside Prints this year. If you are thinking of getting one as a gift for a friend or yourself here is a little more detail about how each one is created.
Lots of styles to choose from!
I currently have over 85 styles of wellington boots to choose from and each one can be further customised by adding one of the 'add-ons' or changing the colour if you don't see the exact shade that you are after of a particular style of boot.
Its all about the personal touches!
If a family member on the print has a particular hobby or job just mention it when you make your order and I may be able to add something to their welly boot. On previous prints I have done i've matched the welly colours up to particular football teams colours that they support and today added a chefs hat to one!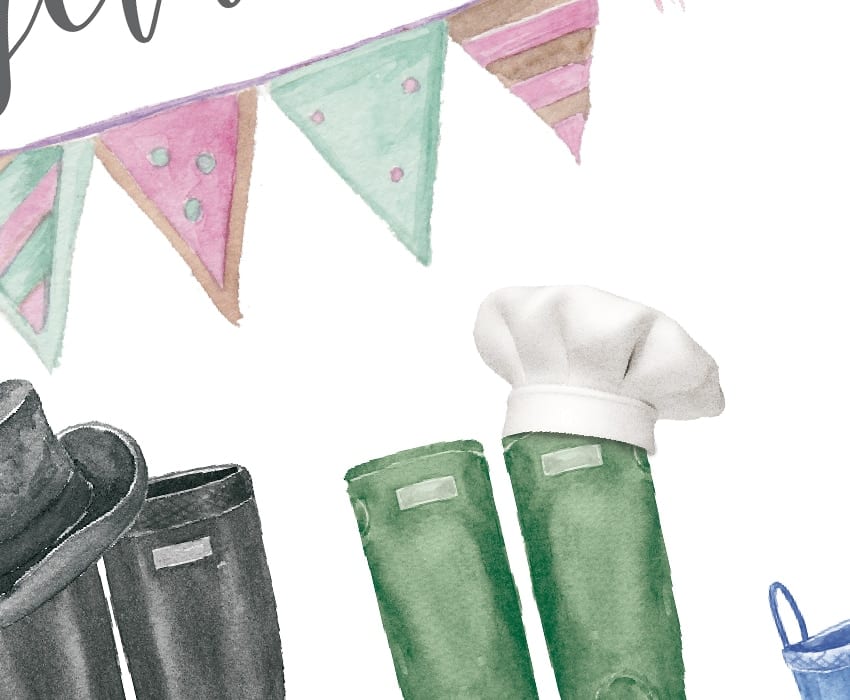 New designs!
I have recently added some extra designs to the boys and girls wellies which are already proving popular, these include unicorns, rainbows, butterflies and ladybirds for the girls and stars, dinosaurs, cows, monkeys and tigers for the boys. If there is a design you would like that I haven't done just ask… I am already thinking of adding a mermaid design to the collection! I have tried to keep the designs simple enough that they don't distract from the other welly boots on the print whilst adding an extra cute little detail.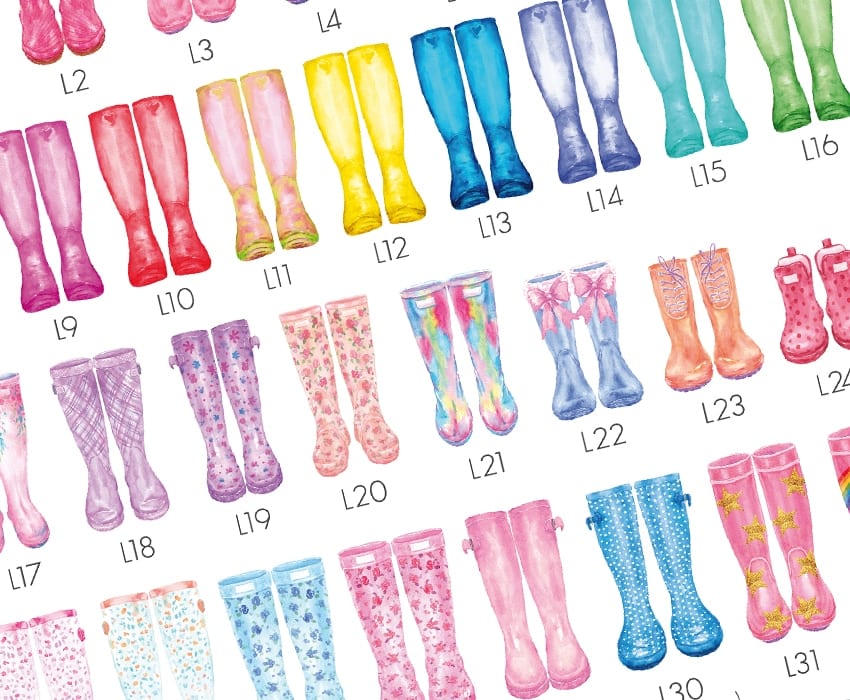 Don't forget about the pets!
Pets are as much a part of a family than the humans so there is a choice of pet bowls and paw prints to include your furry friends.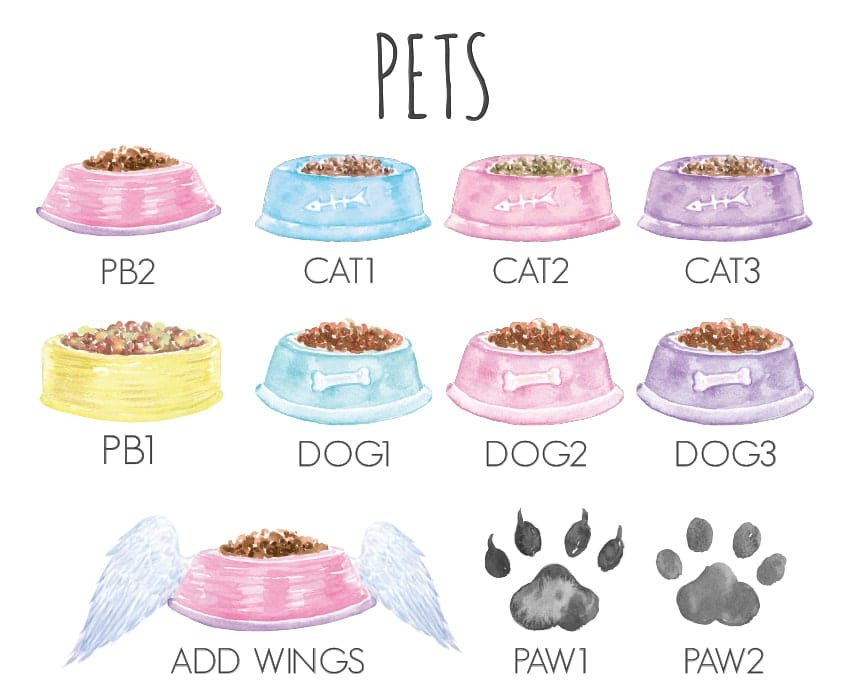 What occasions are they suitable for?
Welly boot prints are a great gift for many occasions and I have even recently added a Christening print version. Mothers Day was a busy time for the welly prints but I also get lots of orders for birthdays, housewarming, weddings, anniversaries and just as a finishing personal touch to your own home.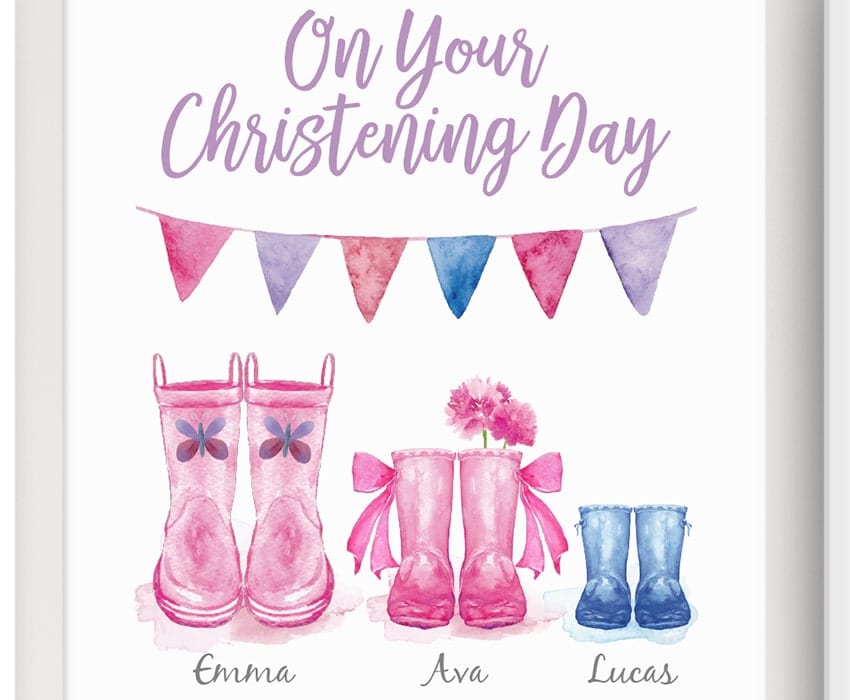 How many wellies can be added to one print?
For the horizontal, I would recommend no more than 7 wellys and pets in total. If you would like a print with more than this on the 'family tree' version may be better for you. this is a vertical print with 3-4 rows of welly boots and pets. I will usually try a couple of different layouts though so you can choose which you prefer.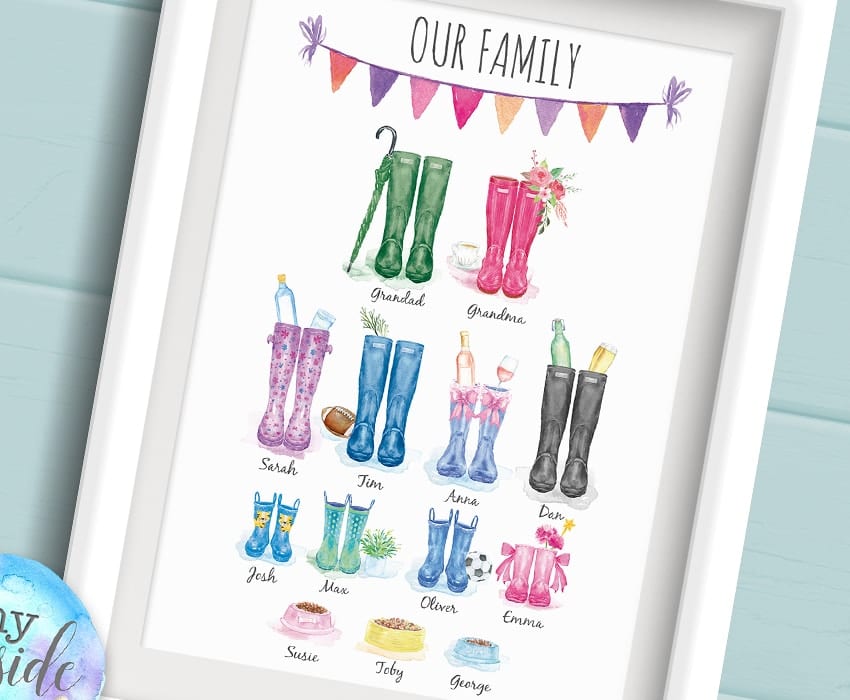 Can I get a bigger size print?
For the time being, I am only printing and posting A4 size prints. As I become busier I hope to expand to larger prints sometime next year. If you would like one of the wellington boot prints in a larger size I will happily supply a digital file at any size you need so that you can get it printed yourself. If you need any advice on where you can get this done I can recommend
www.photobox.co.uk
, I have used them many times in the past and they are very good quality. There are lots of place like Asda and Tesco that have printing services too.
Can you frame my print for me?
I do not currently offer the option to post out framed prints as I think it gives you more option to choose the exact frame you want yourself. It also saves you a lot on postage costs picking up your own frame from a local store rather than me charging expensive postage fees. If you are local to Abergele and would like to pick up your print I can sometimes source a frame for you or may have 1 in stock already so just send me a message if you would like to inquire about me framing a print for you to collect.
How do I order?
Ordering a welly print is easy and just takes a little preparation from your side. Firstly find the contact sheets of the many options then make your choices. Your order should look a little something like the below, I have used the crazy bunch print as an example. Title (for the top of the print) The Crazy Bunch Bunting number 2 with ribbons (or banner choice if you prefer for weddings) List of names from left to right in the order you would like them on the print, for example… Harry B9 with football, Lisa L17 with Martini, Dad ML4 with sprig and beer, Mum L20 with flowers, Rachel L22, Emma G2 with flowers, wand & side bows. Chloe cat bowl 3 with paw 2. It also helps if you can include children approximate ages so that i can adjust the size of the children wellys to suit. And that's it! You will then receive a proof to check and if you would like anything changing or anything isn't as you expected just let me know and I will get it changed and a new proof to you to check again. Once you are happy with the proof I will get it printed and posted to you or arrange a mutual time for collection if you prefer.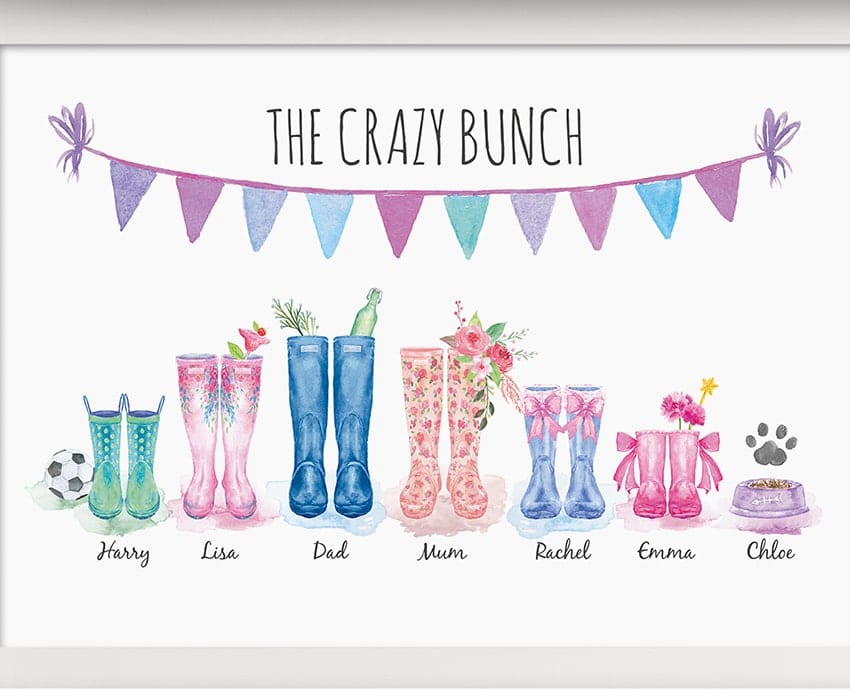 I want to order a welly print for a gift but I'm not sure which options to choose
If you would like to order a welly boot print for a gift but aren't sure which boots and add ons will be right for the family you are buying for, consider a gift voucher! I will be adding these to the website soon but if you cant find it just message me and I will arrange this with you. I will send you a gift voucher for the print and postage cost so that you can give this as a gift or if it is a last minute present I can send an emailable version.
And that's about it!
It's always fun putting together welly prints for people and hearing how much they like them. They are such a unique personal gift or touch for the home that includes the whole family and I always love to see what combinations people ask for. If you think you would like one for yourself or someone else I look forward to receiving your order and working with you to create your personalised wellington boot print!
Alison x